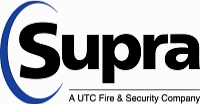 Turn your iPhone into your lockbox key!
With eKEY software, use your iPhone as your lockbox key. eKEY updates wirelessly so you can do business anywhere.

There are two service levels available: eKEY Basic which provides basic keybox functions. eKEY Professional (coming in 2011) adds MLS data saved to your phone, links Google maps to the listings, and delivers showing details to your phone.


eKEY Basic Features

Wireless Updates and Alerts
Obtain Listing Keys
Keep track of all your key boxes right from your phone
Manage and Program your keyboxes
Easily place and remove keyboxes from listings using your phone
Change your own shackle codes
Supra eKEY Adapter

We have created a Supra iPhone Adapter which plugs into the 30 pin dock connector. It adds Infrared to the iPhone. It is designed to hang from a key chain when not in use. When you are ready to show a house, just slide it out of its cover, and plug it into your iPhone.



When will eKEY for iPhone be available?


eKEY Basic for iPhone is available now!


How much does the Supra eKEY Adapter cost?


There is a one time fee of $54.95 (plus $3.95 shipping and any applicable taxes) to purchase the Supra eKEY Adapter. To use the eKEY software there is a monthly key fee like our other keys. The monthly key fee varies by Organization.


Will the Supra iPhone Adapter require batteries?


No! The Adapter gets its power from the iPhone, thus no batteries to change and it will never need to be charged. It only uses power when a box is opened, thus it has very little impact on the iPhone's battery.


Will eKEY for iPhone work with the eKEY Fob (the one that works with the BlackBerry)?


The eKEY fob used for BlackBerry and Windows Mobile devices will not work with the iPhone. It was necessary to design an accessory specifically for the iPhone. Thus, we decided to create an adapter that would plug directly into the phone. In this way the eKEY for iPhone is a fully integrated solution.


How do I get eKEY for iPhone?


eKEY for iPhone is issued just like the other eKEYs. The Supra iPhone Adapter is available for purchase directly from Supra and from most Boards and MLSs. After you have your adapter, you can download the software from the App Store, and get an eKEY serial number and authorization code from your Board or MLS. Once the authorization code is entered into the software, you are ready to open lock boxes with your iPhone!

Moving from DisplayKEY or ActiveKEY is a very simple process. It will only take a few minutes at your local Board or MLS (whoever issued your current key), and you will be opening lock boxes with your iPhone.


What models of iPhones will be supported?


eKEY for iPhone will run on all current models of iPhone (2G, 3G, 3Gs). It will also run on the new iPhone 4. Note that for 2G, 3G, and 3Gs devices, you must have iPhone OS 3.1.3 or above.


How do I get the software on my iPhone?


The eKEY for iPhone app is on Apple App Store. The download is free. While the software itself is downloaded free, there will be an ongoing monthly charge for the key service. Download it now to check out the demo mode.


Is there a way to see how eKEY for iPhone works before I buy it?


Yes. There is a demo version of the software. It is on the App Store and it will let you check out all the eKEY Basic features. To start using it to open lock boxes you will just need to speak to your Board or MLS and get an authorization code.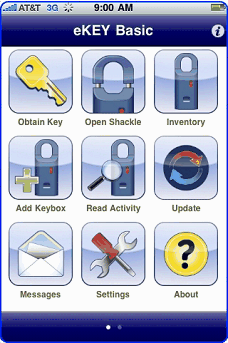 eKEY Basic for iPhone Now Available!